Jun 20, 2022
Being productive is important as there's always lots to do.
Roam Research
is a note-taking application that serves as my productivity enhancer.
I use it for todo list, keeping track of research and notes.
Managing TODO
The biggest productivity killer is procrastination. That urge to just check Twitter in the morning and somehow end up spending hours not doing any work.
Having a concrete list of tasks to do next helps to start new day in a productive way: grab a task from the list and start working on it.
There are plenty of ways to manage list of things, including a specialized apps with priorities, due dates etc.
All I need is a list that is easy to modify and Roam gives me that.
Here's my current todo list: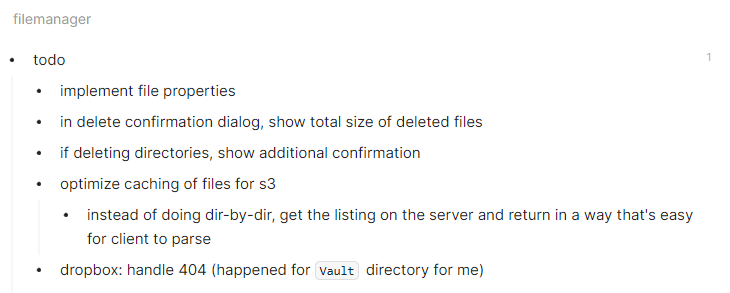 The priority are the tasks at the top.
I don't need due dates and other fancy features because software is done when it's done. I's better to focus on doing things instead of (mis)calculating how long something will take.
I can put as many task as I want and still keep the list visually manageable by putting most stuff in a later sub-list.
Even a simple todo.txt text file could for such purpose. I just use Roam for many other things so it makes sense to centralize my todos for multiple projects in one place.
Summarizing research for the future
Let's take a concrete example: I want to improve context menu I do research to see how others solved the problem. I find a bunch of pages, I read some of it but I'm not ready to implement context menu today.
To avoid re-doing similar work in the future, I took notes:

When I'm ready to implement context menu it'll help me get up to speed.
And everything else
Roam is a versatile note taking app so I also take notes about everything that might be helpful in the future.
Found a useful library that I might use? Make a note.
Have an idea for a feature? Make a note.
Have a marketing idea? Make a note.