Try
Documentalist
, my app that offers fast, offline access to 190+ programmer API docs.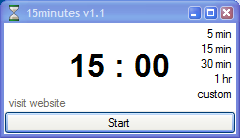 15minutes
is a simple productivity tool I wrote.
Procrastination is avoiding work. To avoid procrastination you just have to start working.
One reason we avoid work is because the tasks seem big and overwhelming. Time boxing is a mental trick - instead of thinking about doing the whole task, we focus about working on a task for a fixed, short period of time.
To implement time boxing you need a timer which will alert you about the end of time boxing period.
Any timer will do - a physical timer, iPhone's built-in clock etc.
I wrote a small application to do it, since most of my work is done on a computer.
15minutes
is that application.